Sci-Fi Book Club: Network Effect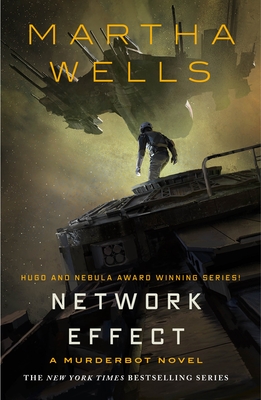 The Sci-Fi Book Club is BACK, now in the highly futuristic form of a virtual Zoom meeting. This month, the Sci-Fi Book Club will read Exit Strategy by Martha Wells.
Register for this meeting on our Eventbrite page!
You know that feeling when you're at work, and you've had enough of people, and then the boss walks in with yet another job that needs to be done right this second or the world will end, but all you want to do is go home and binge your favorite shows? And you're a sentient murder machine programmed for destruction? Congratulations, you're Murderbot.

Come for the pew-pew space battles, stay for the most relatable A.I. you'll read this century.
—
I'm usually alone in my head, and that's where 90 plus percent of my problems are.

When Murderbot's human associates (not friends, never friends) are captured and another not-friend from its past requires urgent assistance, Murderbot must choose between inertia and drastic action.

Drastic action it is, then.
Anyone is welcome to join our Science Fiction Book Club, led by Brooke, who is excited to share her passion for diverse science fiction books. If you haven't looked at the science fiction or fantasy shelves in a while, you may be surprised at the influx of talented women, POC, and LGBTQ+ writers that are writing some of the most interesting and compelling works in the genres. Brooke's goal is to highlight these traditionally underrepresented groups. Each month, we'll explore a new read from a diverse SF/F author. Stop by the store to chat with Brooke if you want more info about the club, or send her an email at brooke@bookendsandbeginnings.com.
Event date:
Thursday, January 28, 2021 -

6:00pm

to

7:00pm
Event address:
1712 Sherman Avenue, Alley #1

$26.99
ISBN: 9781250229861
Availability: On Our Shelves Now
Published: Tordotcom - May 5th, 2020
---